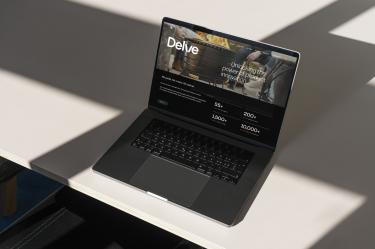 We are excited to share a preview of our work for Delve. A product innovation firm guides clients through the complexities of innovation to deliver better, faster, and more sustainable success.
After merging to form one of the largest product innovation firms in the world, Delve and the Bresslergroup united under one name—Delve.
After this historic merger, we worked with them to develop an identity that unites these two groups under one name and one identity. One that better represents how Delve works. We are thrilled to see the brand go live today and share a preview of our work. More to come.
Delve needed to reintroduce itself in a big way. One that did not feel like a re-hashing of their legacy identity. We started with an updated wordmark, with a hidden arrow that dives below the surface to represent their practice of diving deep for meaning and understanding, grounding their strategy in deep analysis and data.
We paired that with a balanced symbol that hints at their heritage in physical products by utilizing three dimensions. We also created a balance between the physical and digital by implying a nod to brackets. Finally, by creating the feeling of push and pull, we can allude to the balance of the complexities of innovation.
To bring these two groups under one roof, we worked with Howells to create a digital home for Delve that showcases their innovative work without standing in the way—allowing the work to shine. The robust and engaging site helps tell the story of the company to create a beautiful and elegant home for Delve.
More soon, until then you can see the brand live on their site → here.